Rotary Power
Bob Mears' triple-rotor Mazda 20B-powered Supermarine Spitfire
Bob Mears, EAA 748232
BMears9413@aol.com
Iíve studied article after article about putting rotary engines in airplanes. They usually starts with something like, ďWhy I chose a rotary engine to put in my plane.Ē With me it was a bit different; my situation was more like, ďWhat plane will I choose to put a rotary engine in?Ē
Iíve messed with rotary engines for 30 years. I raced them in dirt cars, drag cars, SCCA cars, model airplanes, and go-karts. I was a hard-core Chevy guy when I was young and doing some drag racing. Then I went to work for the local Mazda dealer. The first time I disassembled a rotor motor I was in love. I wondered why in the world I had been messing with all those parts. My brother and I immediately built an RX-2 for the drag strip. We wowed everyone with its wheel-standing launches, unbelievable noise, and low engine temperatures. Later we built a Cosmo for the dirt track. We won so many races the tracks banned rotaries from racing. So we built SCCA cars, RX-3, RX-4, and a rotary truck. (Itís amazing how you can make a truck handle). Later it was back to the drag strip with another RX-3, an RX-7, and a dragster, all supercharged.
All that time I wondered why no one had put these engines in airplanes. As I got older and gave up the racing scene, I always thought I would build an airplane with a Mazda rotary and wow the world with this new innovative idea. Mind you Iím not a pilot, and I donít hang around with the airplane crowd. So about four years ago I decided to enlighten the world with my fantastic idea. I hit the Internet for some research about experimental aircraft. Holy Wankel, Batman! These rotor motors are being used all over the place! Who knew? Then I find Tracy Crookís website (noted rotary guru) and discovered he manufactures most of the parts I needed for my venture. I got really excited.
During all those years of racing I tried and tried to get Mazda to help me get a three-rotor engine here in the United States to race with (the engine is popular in Japan and Europe, but was never installed in a car destined for the U.S.). It never happened. Now I go to eBay, and there they are! Letís find a plane! Being that Iím determined to have something different, I found a Supermarine Spitfire. All metal, 80 percent scale, and perfect for a 20B. The kit was delivered, and at that time it was only one of two here in the States, and I got started on it.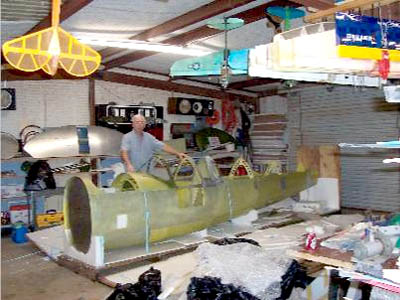 The fuselage freshly uncrated, as shipped from Queensland, Australia.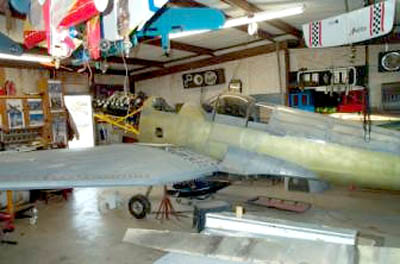 I purchased a 20B on eBay and was anxious to begin dismantling it; years of anticipation came to a head the day I took delivery of itóa dream realized from those racing years, and now it was in my garage. It was a lot of fun to overhaul the 20B since I hadnít even looked inside a rotor motor in 15 years. I was worried about splitting the shaft, but it was a nonevent. The engine was so nice inside that I almost hated to take it apart.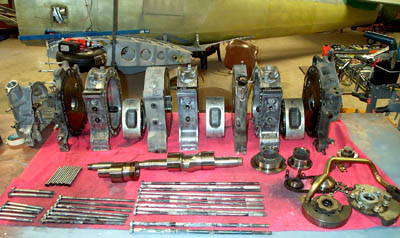 The Wankel engine is elegant in its simplicity.
Who would suspect that 280 hp could be derived
dependably from such a compact box with so few moving parts?
I debated over the porting options I was going to choose since I tried so many different ones over the years, with varying results. One of my favorites was a P-port with working side ports, but the intake manifold is a real bugger to make. Since the Spitfire was designed for the eight-cylinder 5,100 cc Jabiru engine, rated at 180 hp, I decided to go with just a mild street port designed for a naturally aspirated induction system, and shooting for about 280 hp should be ample.

Custom aluminum intake runners and plenum for the three-rotor 20B.
Progress has been steady on both the airframe and engine. The first start of the engine was on February 1, 2008. Initial run-ups have been pleasing and satisfying, but not without some minor hiccups. Iím certainly worried about noise as I had to replace the floor in our RX-3, three times a year; the exhaust noise would sonically destroy the floor boards. I sure hope it donít destroy my aluminum airplane!
Tracy Crook and the gang at the FlyRotary e-mail group (www.FlyRotary.com and http://Mail.LancairOnline.net:81/Lists/flyrotary/List.html) have been very supportive and helpful. Itís fantastic having the Internet for information. Iíve read every rotary site I can find. John Sladeís site (also see CONTACT! Magazineís issue #87) really got me excited. And I really liked how John wrote his experiences in a blow-by-blow story. So I did my web page the same way.
Iíve since joined EAA and have been to Sun ín Fun and the Rotary Roundup in Texas. My excitement level is still high, but my time schedule is just as tight, so Iím not moving at the pace I would like to. And somewhere I must find the time to take flying lessons.